FIREARMS TRAINING

Professional instruction is the first step to successful self-defense shooting. In our classes you will receive intensive lectures and video instruction, range drills and help in the selection of the best weapon for you. You will train enough to make you competent and confident in your ability to defend yourself or your loved ones. The purpose of these programs is to provide the student with professional instruction in weapons and procedures, to give each individual the opportunity for self development through proper training and to eliminate the dangers to each person and other family members by providing correct knowledge of weapon(s) operation. Classes are geared towards teaching practical, reality based firearm techniques.
---
---

HANDGUN SAFETY COURSE


CLASS SCHEDULE :

January 13th - Spaces still Available



More class dates coming soon!

Merry Christmas and
Happy New Year !!!
​

NOTE** Prior to taking the class, you MUST register for the Hand Gun Carry Permit at the link below:

https://dl.safety.tn.gov


PLEASE CALL FOR MORE INFORMATION AND FUTURE CLASS DATES!

HANDGUN SAFETY COURSE IS $75.00. See below for more detailed information about the class.


---

**SPECIAL EVENTS**
---


Real World Rifle Skills - Combative Use of the Rifle

Date Saturday Dec 2, 2017
Time : 8:30 AM to 4:30 PM
Instructor : Randy Harris (https://suarezinternational.com/randy-harris/ )
Price $150 Cash or Check ($50 Deposit holds your spot)


This class is a 1 day immersion level class that will work to bring your rifle handling and shooting skills up to speed . Whether you are looking to use the rifle for home defense, Police patrol, Military, or 3 Gun Competition, this class will improve your shooting and gun handling skills. With just a small amount of lecture time we will spend the majority of the day on the range honing skills with both dry fire drills and live fire. While there is no prerequisite for this class, students need to have a SOLID grasp of the fundamentals of firearm safety and be familiar enough with their rifle to safely load , fire ,and unload it.


Some stuff we will cover....
-SAFETY
-Combative use of the rifle (context of combative use vs competitive use)
-RULE #1 - Don't get shot! (use of cover and movement to keep from getting shot)
-Position Shooting to conform to available cover.
-Marksmanship - Quickly hit what you aim at whether standing, kneeling, prone or moving
-Use of APPROPRIATE sighting methods for the distances involved
-Clear malfunctions QUICKLY
-Keep it loaded (Both reactive and proactive reloads and why and when to use them)
-Transition from Rifle to Pistol (When , Why and How)
-Practical application of the skills we learned


Ancillary gear: Belt, holster, mag pouch for pistol , sling for rifle, at least 3 rifle mags, at least 2 pistol mags (or speed loaders if you use a revolver), and a way to carry your rifle mags. This can be in your pockets, in belt mounted mag pouches, in a bag of some type or in a chest rig.


What to bring?
Modern magazine fed semi auto rifle or pistol caliber carbine.
Pistol.
Ammo: Rifle 250 rds Pistol 50 rds
Eye and Ear Protection and any other gear you want to bring like knee pads.

​


Our Classroom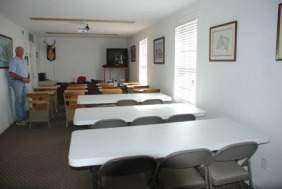 Our indoor classroom is comfortable with heat and air. We have restroom facilities and a sales office.


Guns are available for sale in our office. We can get most makes and models, please call us for more information on the gun you are considering for purchase.


---
---
TENNESSEE HANDGUN SAFETY COURSE

The course is an 8 hour course and is generally held on Saturdays, from 8:30 a.m. to 5:30 p.m.
The cost of the course is $75.00.
Registration of the course is required to ensure a slot for class.
This course is designed by the state to take the student through the steps needed to obtain a TENNESSEE HANDGUN CARRY PERMIT. Half of the class is spent in the classroom covering various topics with: videos, lecture, and discussion. There is a written test on which a score of 70% or better is required to pass. The test is multiple choice and true/false and covers basic, common sense firearms safety and handling material covered during the classroom portion. There are restroom breaks and a break for lunch. The range qualification consists of firing 50 rounds of ammunition. A score of 70% or better is required to pass. We strongly recommend applicants qualify with the gun and ammo they intend to carry, BUT there is no requirement to do so. You may qualify with a .22 and carry a .44! But, this is NOT recommended. It is recommended that the student bring their own firearm. Due to the time requirements placed on us, by the state, we do not have time to make you a proficient shooter, if you are not already competent. Before carrying a handgun for personal protection, we very much recommend that you, AT THE VERY LEAST, take a Basic Firearms Safety & Handling class, if you have never had professional training.
---
FIRST TIME HANDGUN CARRY PERMIT REQUIREMENTS

Effective July 1, 2005, the state law regarding obtaining a handgun carry permit changed. Following are the requirements for obtaining this permit:
Provide CERTIFIED PROOF of U.S. Citizenship or Lawful Permanent Residency (no photocopies).
You must have an original certificate of completion of a certified handgun safety course.
The course must have been completed within the previous six months of making application.
You must have your fingerprints taken. This will be performed by a Driver License Examiner for the purpose of conducting a TBI and FBI Criminal History Records Check.
You must have a photograph taken. A Driver License Examiner will also do this.
You must pay the appropriate fee with the completed application form. The fee is $115.00 for an original application. Only cash or certified check made payable to the TN Department of Safety will be accepted.
Dodd & Associates will provide applications to you.
The fee is non-refundable.
Be aware of the DOMESTIC VIOLENCE LAW. If you have a MISDEMEANOR conviction, you may not be eligible for the permit. The conviction "may" void your current permit, deny you the right to purchase additional firearms and could jeopardize your current ownership of firearms. Check with your attorney to see how this might affect you.
The state anticipates a minimum of 60 days to process applications and issue the applicant's permit. The actual processing time will be dependent on the response of the Tennessee Bureau of Investigation and the Federal Bureau of Investigations to perform the fingerprint check.
---
RENEWAL OF HANDGUN CARRY PERMIT

Prior to expiration of the applicant's handgun carry permit, the applicant must:
ALL handgun permit applicants seeking a new, renewal, or replacement permit must provide proof of U.S. Citizenship or Lawful Permanent Residency.
Submit a fully completed application.
Have a photograph taken by a Driver License Examiner.
Submit the proper fee of $50.00
Even if you are one day late, you will have to apply as a NEW applicant!
Applicants must be 21 years of age and a resident of Tennessee, must not be prohibited from purchasing or possessing a firearm in this state or any other state or by federal law, must also meet all other requirements related to the application. After issuance, the permit will be valid for 4 years and shall entitle the permit holder to carry any handgun(s), which the permit holder legally owns or possesses. The permit holder must have the permit with him when carrying a handgun and display the permit on demand of a law enforcement officer. Prior to expiration of the permit, it will be the permit holder's responsibility to apply for renewal.
Any permit issued before October 1, 1996, by County Sheriffs will remain valid until the date of expiration. However, current permit tees may "trade in" their two-year permit cards to DOS after October 1, 1996 in exchange for a four-year permit. The process will be handled as if it were a renewal, i.e., a $50.00 charge will accompany the filing of a renewal application, and the new card will have an expiration date extended by two years giving the permitted a four year total.
It is no longer a requirement that the firearm to be carried be specified by make, model, and serial number. The training certificate will require the make, model, and caliber (not serial number) of the firearm used for qualification. An insurance bond is no longer required.